Your dual mechatronics studies at the PHWT
Would you like to enjoy the advantages of a well-founded degree and practical training or would you like to be active in your dream job as quickly as possible and improve your chances of doing so by studying at a renowned university? Then achieve your goals in your studies through a dual mechatronics degree programme at the PHWT!
Your path to a responsible position in the industry
Just 20 years ago, most technical systems functioned purely mechanically. Today, mechanical systems are increasingly equipped and automated with state-of-the-art electronics. To be able to develop these mechatronic systems, specialists are needed who feel confident at the interfaces of the engineering disciplines and computer science.
The artificial word mechatronics expresses the integration of three disciplines: mechanics, electrical engineering or electronics and computer science. The degree programme offers a comprehensive insight into the three disciplines and combines them with engineering sciences.
The first impression may leave a complicated picture of the degree programme, but appearances are deceptive: the technical modules are almost congruent and complement each other. The special feature of the classical and dual mechatronics degree programme is that once you have learned a method, it can be applied to all other subject areas and you learn interdisciplinary work at the same time. This methodical approach is strengthened in the practical part of the programme.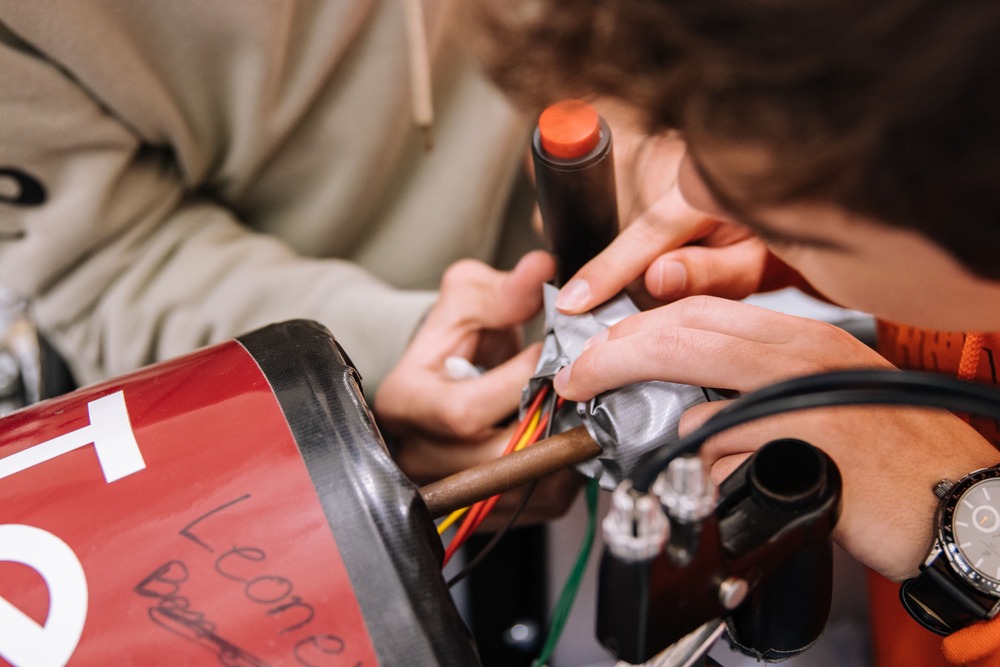 The dual study programme in mechatronics is just the right thing for you if…
… you enjoy both manual activities such as screwing and soldering.
… you are interested in programming and coding.
… you would like to broaden your horizons to include other areas related to mechatronics.
… you find it exciting to bring mechanical and electrical components together.
… you have already dealt with the subject of mechatronics and have been able to gain some experience.
This is how your dual study programme in mechatronics will work in practice
Your dual mechatronics degree is completed after only 7 semesters plus a bachelor's thesis (46 months); at the same time, you will complete your technical training in your company during the first 2 years. The dual mechatronics degree programme, like the other dual degree programmes, combines these components by alternating between practical and theoretical phases.
This gives you the most important skills to excel in your field. After completing the dual study programme in mechatronics, you will have a sound knowledge of technical skills, methods, technology and social skills that you can apply in practice in your company. At the same time, you have various laboratory projects with practical questions in the theoretical blocks, which you work on with the support of your supervisors and fellow students, so that engineering procedures and interdisciplinary methods can be internalised.
In addition to your professors, experienced practitioners from the field of mechatronics will impart their knowledge to you in a structured manner, offering you an intensive and very well supervised study programme. Small groups allow for an optimal supervision ratio between you and the lecturers, so that you are sure to succeed!
Your dual mechatronics degree programme usually begins on 01.08. of each year. The diagram below shows how your phases are coordinated.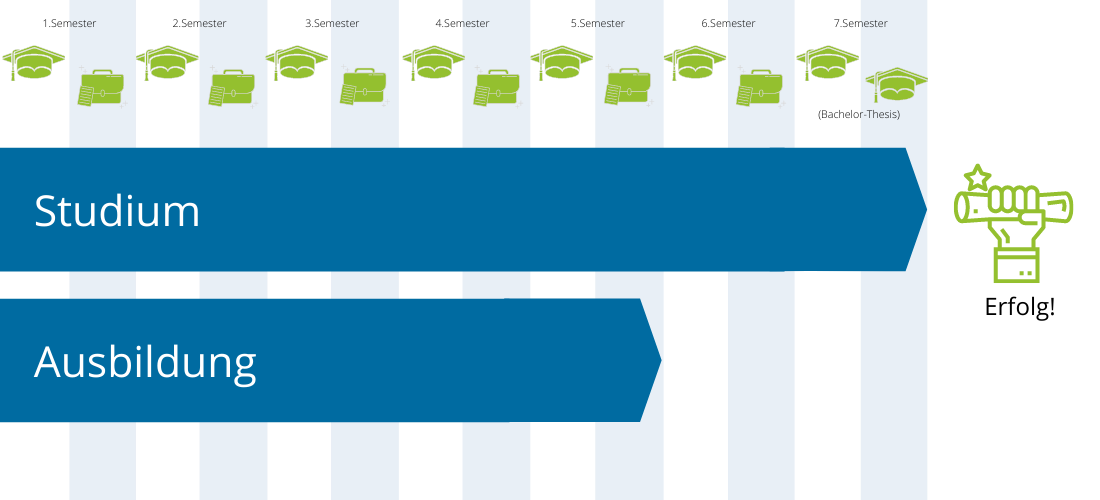 This is what awaits you in your classical studies
If you want to study mechatronics, you can also do it the classical way. A classic degree programme lasts 7 semesters plus a Bachelor's thesis, i.e. a total of 46 months.
By studying elective subjects, you can focus on specific areas and acquire the skills that are most important to you. Through your studies, you have the professional competence, methodological competence and social competence to apply them in the company.
Through exciting project work during your studies, you will build up interdisciplinary and transferable knowledge. Your professors will teach you in a structured way and you will also be taught by practitioners from business and technology, which guarantees you an intensive and very well supervised study programme. Due to the small groups, the supervision ratio is ideal, so that you will succeed!
When you start your classical studies at the PHWT, this is typically in the 40th calendar week. You can see the arrangement of your phases schematically in the illustration below and in more detail in our study plan (see download area).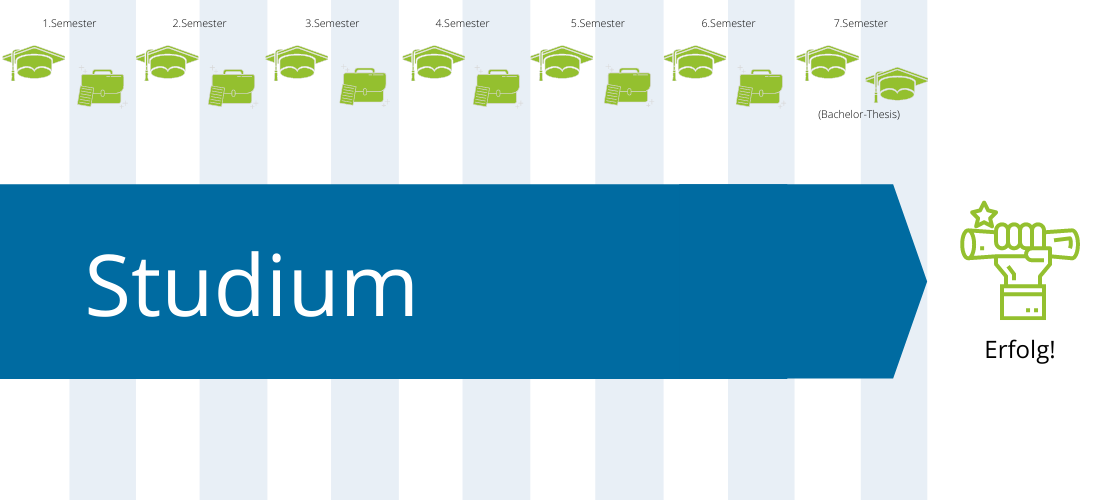 Dual study mechatronics in cooperative way
The familiar atmosphere at the PHWT makes for pleasant studies on campus. The compact size of the university means that the lecturers are almost always available.
In the event of difficulties in your studies or company, a solution is sought together. Your lecturers provide individual support to ensure that you are not left out in the cold and respond to your wishes and ideas. Take a look at all the degree programmes that the PHWT has to offer.
The following content awaits you during your dual mechatronics degree programme
The educational goal of the dual study programme Mechatronics is a demand-oriented engineering education with broad basic knowledge, taking into account ecological, economic and ethical aspects. Students learn to analyse engineering problems and to develop economically justifiable solutions. Independent and holistic learning are encouraged, as well as the ability to critically reflect and implement what they have learned in practice.
The dual mechatronics programme is divided into the following teaching and learning content:
Mathematical-scientific basics
Fundamentals of engineering
Engineering methodology
Engineering applications
Interdisciplinary teaching content
Practical training
Cross-functional thinking and application-oriented work are promoted in the project, among other things. Action-oriented learning is promoted through the realistic project work, which contributes to the development of in-depth engineering knowledge and skills. Planning and organisational skills as well as teamwork and communication skills are promoted. In addition, students' social skills are trained in corresponding courses. International thinking and communication in a foreign language (English) are part of the learning programme.
Requirements for the dual study programme in mechatronics
For the dual bachelor's programme in mechatronics, you need the entrance qualification for a university of applied sciences or the Abitur. Good grades in mathematics and computer science are particularly beneficial here. You are also admitted as a master craftsman or state-certified technician.
You should have the following personal skills for a dual study programme in mechatronics
Is the dual study programme in mechatronics right for you? Let's find out!
First of all, you should have a general interest in technology. The dual study programme in mechatronics combines basic knowledge from the fields of electrical engineering, information technology, mechanical engineering and engineering.
On the one hand, you should be able to think logically in order to solve the tasks at hand in a goal-oriented manner. However, you should also have a good imagination and ability to think abstractly, as you will constantly encounter new problems during your dual mechatronics studies that need to be solved creatively.
You should be willing to implement planned activities in practice. It is important to approach projects with care and an eye for detail.
A good command of English and appropriate technical vocabulary are important for a dual mechatronics degree programme, as many circuit diagrams, assembly and installation plans are written in English.
Finally, you should be willing to learn. The professional field of mechatronics is constantly changing due to numerous technical developments.
Does that sound like you? Then this dual mechatronics degree programme is just right for you! We look forward to receiving your application!
If you have any questions, please contact the secretariat in the Engineering Department "Dr. Jürgen Ulderup":
"At the end of the degree programme, every graduate shines with the completed apprenticeship, the successfully completed studies at one of the best universities in Northern Germany, a good network within the student body and almost two years of relevant work experience in the company. That every graduate who is willing to overcome the various hurdles is full of motivation, ambition and joy of learning, in my opinion, needs no extra need to be emphasised."
"Right at the beginning of the first theory phase, you notice the "familiar" way the lecturers interact with the students. The lectures take place in small groups and therefore have a very pleasant atmosphere.
There is also a friendly atmosphere among the students themselves. You also maintain good contact with the other semesters and do things together. In my opinion, a dual study programme at the PHWT is the perfect combination of theoretical knowledge and its practical application in the company. I had a lot of fun with the topics I was taught and felt very comfortable at the PHWT."
Apply now!
To your dual study place in mechatronics.