Secure your success with the dual Bachelor's degree program at PHWT!
Mastering the dual Bachelor at PHWT
Earn money and study at the same time
Dual study at the PHWT means that students both complete a bachelor's degree and have close contact with practice throughout their studies. This is achieved, among other things, by the fact that they alternate between theory and practice blocks in a rhythm of 12 weeks. In this way, students can earn their first salary while studying and have two degrees in their pocket after 6 or 7 semesters. Furthermore, graduates of the PHWT enjoy a good reputation both in the region and beyond. 
As a student at the PHWT you have the possibility to choose between 6 courses of study. Depending on the field of study, students can obtain a Bachelor of Arts or Bachelor of Engineering degree.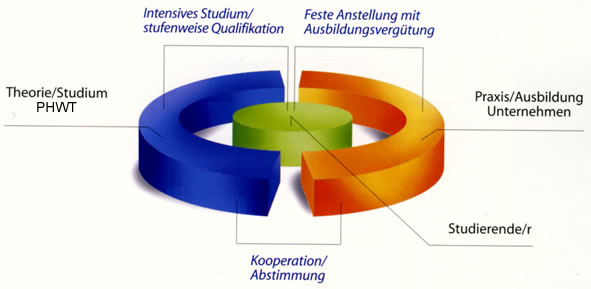 Which bachelor's degree program is interesting for you?
PHWT as a reliable partner for your company
Becoming a partner of the PHWT has many advantages for your company. With dual students, you can secure the next generation of academics with qualified education at the highest level.
Due to the practice-oriented structure of their studies, your students will be able to work in your company directly after their education and will quickly provide you with success-oriented added value with modern methods and research-based knowledge. You will not be at a disadvantage in terms of time, as the education and studies together are completed in 3 and 3.5 years respectively.