The Master's program at PHWT!
Advantages of a part-time Master's program
Acquire relevant expertise, work successfully, seize career opportunities
Through the part-time Master's program at PHWT, you benefit from a perfect symbiosis of theory and practice. The highly relevant theoretical knowledge content is matched with practical activities at all times. This way, you will improve your operational and strategic management skills in the shortest possible time and you will gain important qualifications to fill your positions within the company safely and responsibly. Due to the permanent practical relevance, the focus always remains on your successful professional future.
Efficient small groups with diverse talents create an uncomplicated and informal exchange, which creates a connection beyond your studies. You can already establish professional contacts during your studies and draw on an international network of professors.
The PHWT focuses on an individual approach to students and excellent support from the lecturers. You will benefit from a learning plan specially adapted to your needs by empathetic and highly competent professors.
Through a mix of effective learning methods, such as business games, excursions, exchange with industry experts, etc., complex content is presented in an exciting way. To ensure that you get off to a successful start in your field, you can choose from a variety of specializations. At the end of your studies, the PHWT will enable you to make all business decisions at a master's level and to successfully manage employees in the future.
Master of Business Administration & Management
Admission requirements
The Master's program in Business Administration & Management is aimed at all graduates with a Bachelor's degree in Business Administration or a closely related degree program. The prerequisite for the Master's degree is a degree with a minimum grade of 2.5 or better from a program comprising 180 credit points. A further requirement is contractual affiliation with a PHWT member company.
Course of studies
The Master's program in Business Administration & Management is offered on a part-time basis and is divided into theory and practical phases. During the practical phases, students should be given time to perform tasks relevant to their studies in the company. The program comprises 120 credit points and lasts 2.5 years.
Contents & Modules
The modules of the part-time Master's program are divided into 3 main categories: operational management, strategic management and normative management. Combined, these different management methodologies provide a responsible sense of action and relevant entrepreneurial thinking to communicate economic efficiency.
More information
The Private School of Business and Technology (PHWT) is state-recognized and institutionally accredited. The teaching staff consists of tenured professors, lecturers from surrounding universities and colleges, and experienced practitioners from renowned companies in the region.
Module Plan Master Business Administration & Management
Personnel management and development
IT-based business management
Organizational theory and practice
Decision and risk management
Sustainability management
Master's examination (Master's thesis, Master's seminar and Master's colloqium)
.
Your company does not (yet) cooperate with PHWT?
Of course, almost every company can send students. The only prerequisite is that the company is or becomes a member of the PHWT e. V.. A study program is worthwhile for both sides, because as a reliable education partner of the economy, the PHWT is always on the pulse of time. Our graduates are therefore always sought-after employees for modern companies.
The part-time master's degree offers the perfect combination to further expand the knowledge you have already acquired through a bachelor's degree and to actively apply it in your company. In this way, you can further develop your skills and offer your employer the opportunity to apply modern and progressive methods in practice.
Experiences of successful graduates of the Master's programs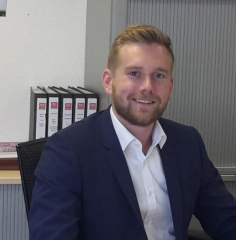 Fabian Kahl
Master student "Management in medium-sized companies" (2015)
"We are a small group of seven students in the master's program who have grown well together within the first semester have grown well together. We all get along well and have fun. Contact with the other students is also open and friendly.
The lecture rooms, however, are more reminiscent of classrooms than of large classrooms than of large lecture halls in the universities. Here everything is
everything smaller – but this means more personal/familiar at the same time."
If you have any questions, please contact the secretary's office in the Business Administration Department: