Your dual study program in mechanical engineering
 (also possible as a classical study)
Your path to a responsible position in the industry
Your mechanical engineering studies at PHWT
Is it your goal to enjoy the advantages of a fundamental study and a practical education at the same time? Or would you like to be active in your dream job and a responsible position as quickly as possible and improve your chances of doing so by studying at a renowned university?
Then studying mechanical engineering at the PHWT is just the right thing for you!
You will not only benefit from a practice-oriented study program, but you will also be able to effectively acquire specialized knowledge in a familiar atmosphere.
In this way, you will not only experience your acquired knowledge from the lectures in a more tangible way, but you will also quickly offer added value to the company and make yourself indispensable in the company. 
With PHWT at your side, you will be guided to success right from the start. We support you from the individual selection of your training company to reliable exam preparation.
The study of mechanical engineering is just the right thing for you if…
… you are enthusiastic about technical progress and excited about future developments.
…you have made it your goal to have good career opportunities after graduation.
…you enjoy practical work and find a simple office job too monotonous.
…you have excellent time management skills and are motivated to tackle the challenging course of study.
This is how your dual study program in mechanical engineering will work in practice
Your studies are completed after only 7 semesters plus a bachelor's thesis (46 months). At the same time, you will complete your technical education in your company during the first 2 years. The dual study program in mechanical engineering combines these components by alternating between practical and theoretical phases.
While the fundamentals of engineering and mathematics are taught in the basic area, the core area focuses in particular on imparting good knowledge and skills in the design area and on mastering the latest calculation and simulation methods. In the specialization area, students have the opportunity to select various electives from a wide range of subjects – in addition to the compulsory subjects – in order to expand their already acquired basic knowledge as individually as possible.
The dual study program ideally combines university studies with active company practice. This means that each of your practical phases will be optimally prepared and you will be able to shine with your knowledge and take on responsible tasks.
In addition to your professors, experienced practitioners from the mechanical engineering industry will impart their knowledge to you in a structured manner, offering you an intensive and very well supervised study program. Small groups allow for an optimal supervision ratio between the lecturers and you, so that you are sure to succeed!
Your dual study program in mechanical engineering usually starts on 01.08. of a year. You can see how your phases are coordinated in the diagram below and in more detail in our study plan (see download area).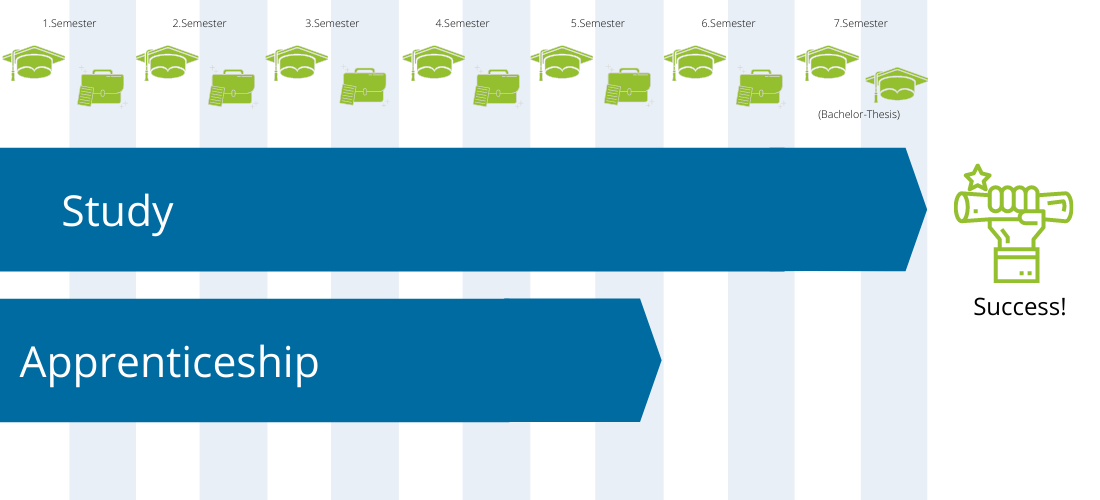 This is what awaits you in your classical studies
Instead of the dual mechanical engineering degree programme, you can also complete a classical degree programme. If you opt for a classic degree programme, you will be finished after 7 semesters including your Bachelor's thesis. (46 months)
You can acquire the competences that are most important to you by setting focal points in the individually selected compulsory elective subjects. After graduation, you will have a sound knowledge of professional competence, methodological competence and social competence, which you can apply in practice in your company.
Exciting project work is an important part of your studies so that you can acquire well-founded and practical knowledge. You will have intensive and well-supervised studies with experienced practitioners alongside your professors. Small groups mean an optimal supervision ratio between the lecturers and you – so you can be sure of success!
Here at the PHWT, classical studies usually start in October – but don't worry, we've got it all planned out! Take a look at the study plan so that you know what to expect and when (see download area).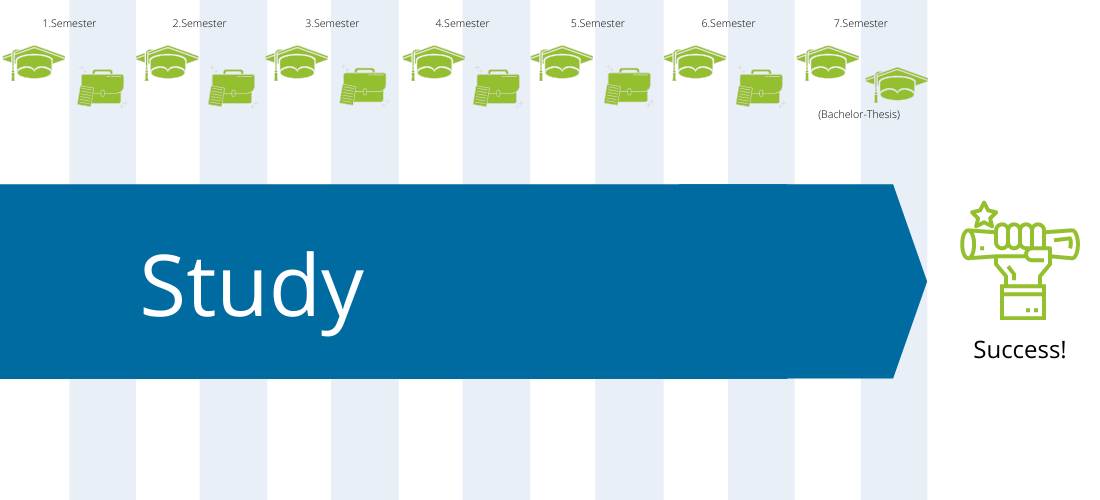 Study mechanical engineering together
PHWT is a perfect community where you always feel at home. Due to its compact size, it is possible to maintain almost constant contact with the lecturers – be it in person, by e-mail, by telephone or online via Microsoft Teams.
If you have problems or difficulties in your studies or company, we provide individual support to ensure that you are not alone. Take a look at all the degree programmes we offer at the PHWT.
These contents await you during your mechanical engineering studies
In order to prepare you for your professional career in the best possible way, the dual structure of the studies at the PHWT offers you particularly realistic content. Among other things, our state-of-the-art computer labs are the heart of our university in the theory blocks to familiarize our students with the latest technology.
In addition, all phases of the program are characterized by the teaching of interdisciplinary content. In this way, students recognize at an early stage the strongly pronounced interdisciplinary nature of many subfields of mechanical engineering.
The program lasts 7 semesters plus a bachelor's thesis (46 months).
The dual study program in mechanical engineering opens up a very broad field of application in company practice and thus diverse and flexible career prospects, e.g. in the areas of:
Research and development
Design
Work preparation
Manufacturing
Quality control
If you have any questions, please contact the secretary's office in the engineering department "Dr. Jürgen Ulderup":
At the end of their studies, each graduate shines through the completed training profession, the
successfully completed studies at one of the best universities in Northern Germany, a good
network among the students and almost two years of relevant work experience in the company.
company. That every graduate who is willing to overcome the various hurdles is full of
motivation, ambition, and joy in learning, in my opinion, does not need to be
be emphasized.
Right at the beginning of the first theory phase, one is struck by the "familiar" way the lecturers treat the
students. The lectures take place in small groups and therefore have a very pleasant atmosphere.
pleasant atmosphere.
There is also a friendly atmosphere among the students themselves. Also to the other
students, too, and they do a lot of things together.
In my opinion, a dual course of study at the PHWT is the perfect combination of
theoretical knowledge and its practical application in the company. I really enjoyed the topics I was taught and felt very comfortable at the PHWT.
Apply now!
On your dual study program in business administration.