Your dual informatics studies at the PHWT
The informatics degree program provides a comprehensive understanding of information technology as well as the ability to integrate it into business processes. Through the practice-oriented training in close cooperation with companies, you will not only gain theoretical knowledge, but also valuable experience in dealing with real problems.
At the PHWT, we will accompany you on your way to successfully completing your studies. We support you in the selection of a suitable internship company and offer you reliable exam preparation.
Optimization of business processes through expertise in informatics
Thanks to your qualifications and practical experience, you will be able to offer your company great added value in a short time. With your in-depth knowledge of information technology and your business management background, you can quickly reach a position of responsibility in the company and help drive important processes forward.
Informatics studies at the PHWT – Secure the best career opportunities for yourself
If you choose a dual study program in informatics at PHWT, you will be prepared for an exciting and practical time full of challenges. As a private university, we are known for our practice-oriented degree programs.
You will not only gain theoretical knowledge, but also practical experience in companies. This combination will optimally prepare you for a career in the IT industry, which is constantly growing and becoming more and more important.
The course of your dual informatics studies
The dual bachelor's degree program in informatics qualifies you to operate successfully in the digital world and to develop and design future systems.
The program lasts 7 semesters and includes alternating practical and theoretical phases. In the first semesters of the dual study program in informatics you will learn the theoretical basics such as technical informatics, programming and introduction to informatics. Through individual elective courses, you have the opportunity to set specific focal points and focus on your most important skills.
The dual study program offers you the opportunity to actively apply your theoretical knowledge in company practice and to take on responsible tasks. You will carry out extensive project work, which will be combined with practical transfer reports. Experienced practitioners from the IT industry and professors will impart knowledge in a structured manner, thus enabling an intensive and well-supervised dual study program in computer science.
After completing the dual computer science program, you will be able to analyze, model and implement technical requirements and place them in a business context. Small groups allow for an optimal supervision ratio between lecturers and students to ensure your success.
The dual computer science program usually begins on 01.08. of each year. Details on the course of studies can be found in the schematic diagram and in the study plan for the dual computer science program, which you can find in the download area.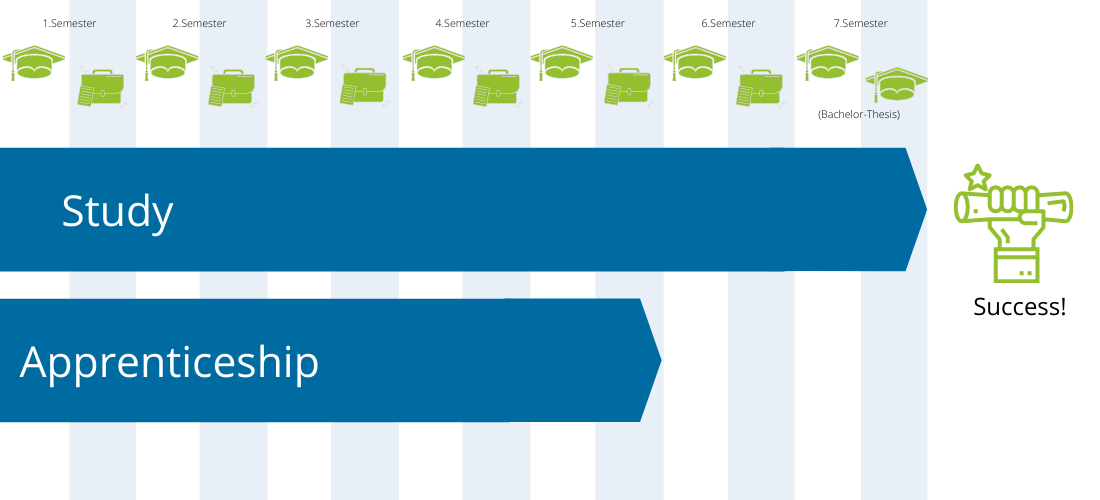 What do I do in the theory phases?
In the theory phases you will attend lectures and seminars at the PHWT to acquire the necessary theoretical knowledge. You will deal with various topics of informatics, such as programming, databases, software engineering or IT security. You will not only learn the basics, but also go into depth and understand complex interrelationships.
What do I do during the practical phases?
During the practical phases you will work in a company and apply your acquired knowledge in practice. You will work on real projects and apply your knowledge directly in practice. This is a great way to gain practical experience and build your network.
What awaits you in your classical studies
As an alternative to the dual informatics program, you also have the option of completing a traditional degree program. With the classical study program, you will also be finished within 7 semesters.
You have the freedom to choose individual elective subjects in order to focus on specific areas and acquire the skills that are most important to you. After graduation, you will have the necessary technical, methodological and social skills to apply in a business environment.
During your informatics studies, you can expect exciting projects that will help you to expand and deepen your knowledge. Together with experienced practitioners from business and technology as well as your professors, you will be guided in a structured and well-founded manner on your way to a successful degree. Our small groups ensure the best possible supervision and support you in realizing your full potential.
The classical informatics program at the PHWT begins in October. You can find out how the individual phases are coordinated either from the illustration below or from the detailed study plan (see download area).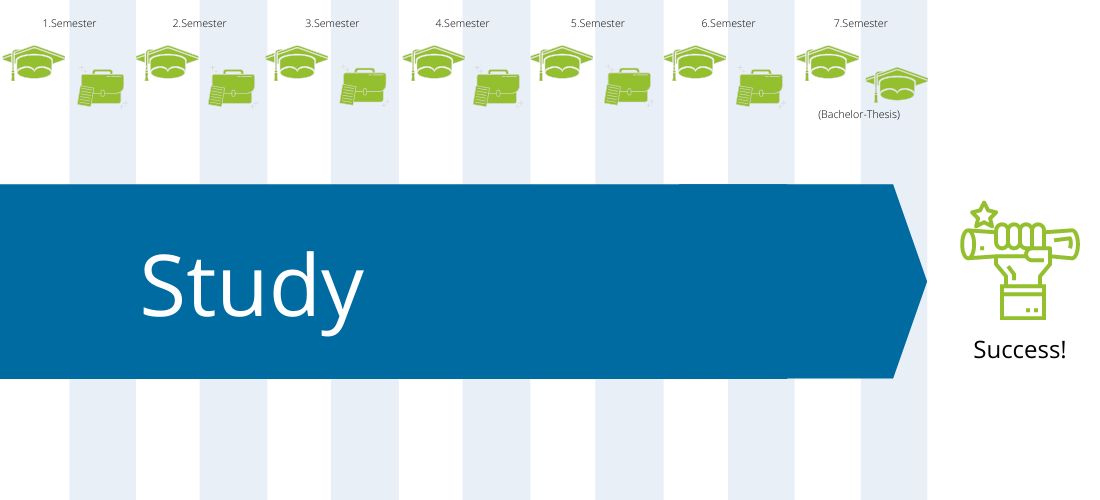 The informatics program is right for you if…
… you are interested in mathematics and technology and love to solve complex problems.
… you have a careful and analytical way of thinking and enjoy working with computers.
… you have a creative streak and enjoy developing innovative technologies and programs.
… you prefer a team-oriented approach and enjoy working with others on projects.
… you have a high willingness to learn and motivation, because the IT industry is constantly evolving and it is important to stay up-to-date.
Contents of the informatics studies
The study of informatics is composed of different areas that deal with the theory and practice of information technology. In the informatics studies at PHWT you will be taught the following contents:
Basics of informatics
Programming
Databases
Software engineering
Computer networks
IT Security
Algorithms and data structures
Web Technologies
Typical questions about your informatics studies
Is studying informatics difficult?
The study of informatics can be considered challenging due to its complexity and abstract content. It requires a high level of logical thinking. However, most students enjoy their studies and are excited about the wide range of opportunities available after graduation.
Are trained informatics professionals currently in demand?
Yes, trained informatics specialists are currently in high demand. Digitization is advancing all the time and the IT industry is constantly growing. Graduates of a dual study program in informatics are particularly in demand due to their practical training and have the best career opportunities. Companies are looking for qualified professionals to help them meet the challenges of digital transformation.
What kind of salary do I get after a dual study program in informatics?
The salary after a dual study program in informatics depends on various factors, such as the industry, the company and the region. As a rule, you can expect a starting salary of 40,000 to 55,000 euros gross per year on average.
What do I earn during my dual studies in informatics?
Even during your dual studies in informatics, the salary depends on various factors, such as company size and industry. On average, however, you can expect a salary of 800 to 1,200 euros per month.
Apply now!
For your dual informatics study place.